REIGNITE YOUR MARRIAGE & RECLAIM YOUR IDENTITY
Get back to being on the same page where you both feel supported and understood

Your relationship feels one-sided and you yearn for balance

You want to learn how to enhance your communication skills

Get back that spark and increase connection

You're ready to experience change, ready to be given the blue print for communication.
Let me take you there. In this course you will finally learn the tools to help you breakthrough the communication roadblocks you keep running into time and time again. Aren't you tired of hitting a wall with your spouse? Let's break through it once and for all.
In this 4 weeks online program you will learn how to lovingly and effectively communicate with your husband so that your conversations don't result in avoidance, blow-ups, or misunderstandings. You will learn how to create a clear path that increases healthy conversations and true connections. Both parties will feel valued and heard.
So, you want your marriage back, like really bad.
Is this course for me?
Maybe you feel like I did: I felt like there was no reason for my husband and I to feel unhappy because we had it all. We just felt disconnected and our conversations were filled with avoidance, kids' hobbies, and schedules.
I felt unseen and unwanted, unable to effectively say how I was feeling without leading to a blowup.
I felt like I was on my own, I was the only one doing the work.
He felt like I was always trying to fix him, no matter what he said or did it was never enough.
I learned that it doesn't have to be this way. I show you how to reignite your marriage, and in so doing reignite yourself!!
If you are a Wife who loves her husband dearly, and wants to connect with him on a level that feels exciting and deep, flirtatious? Do you hate to admit that there are not enough hours in the day to get it all done? Do your conversations with your husband end up in avoidance or misunderstandings and it feels like your relationship is transactional? When did you lose your best friend? Do you desire the confidence to say what you really want to say, to be heard, valued, appreciated, and not feel like you are taken for granted? You are ready to reignite your marriage and cut through the boredom, blow-ups, and have meaningful conversations, tired of living on autopilot, you're ready for deeper connection, intimate time alone with each other, feeling in love all over again and understanding each other on a deeper level.
This is for you if you want to feel:
Feel like there is a two-way communication where your spouse doesn't bottle up his emotions. A Wife who wants to learn how to talk to her husband so he won't be so reactive or bottle up his emotions.

Feel accepted, and safe in discussing differing opinions with your spouse, accepting and understanding of each other's differences of opinions. A wife who no longer has to avoid sharing her feeling, thoughts, and dreams.

Feel like you can get through a misunderstanding without a giant blow-up. A Wife who wants to learn how to communicate in a way that doesn't result in a blow-up.

Feel clear and confident in connecting with safe boundaries, and loving connection. A Wife who wants to learn how to set boundaries, feel confident and connect with her husband.

Feel like she knows to identify problems and navigate through arguments like a boss. A loving boss, Wife who wants to learn how to identify and resolve communication barriers and navigate through an argument.
You're right where you need. You can learn the tools I use with my private clients from your home, your car, and wherever you listen. There is no better investment in your future than in an investment into a loving and healthy relationship!
Hello, my name is Veronica Cisneros, I am a licensed marriage and family therapist, mother of 3, and married for 23 years.
Hello, my name is Veronica Cisneros, I am a licensed marriage and family therapist, mother of 3, and married for 23 years. I help women cut through blocked communication in their marriage so they can feel connected, supported, and understood. Like you, I also struggled with communication.
I've seen hundreds of couples in my private practice struggle with the exact same issues. Some couples are just in a rut and some are on the verge of divorce. Listen, I give you the strategies that work. It's what I preach from the therapy chair, and what I've learned in my own marriage. These proven strategies and step-by-step skills, save marriages!! I've seen it time and time again. You want the marriage you long for!!! I don't do bandaids, I only teach life-changing healing methods.
By the end of this course, you will have...
Developed an understanding of how your past has impacted your marriage.

Nailed down the differences between the way you and your husband communicate.

Implemented a new way to control your emotions. You will respond instead of react.

Crafted a plan and created a path for true connection with your husband. Dreams!!

Developed an understanding of your marriage communication blocks and how to set boundaries and communication needs.

Established confidence and connection by identifying what you want in life and a clear understanding of how to achieve it.

A clear understanding of how to navigate through an argument without self-compromise, misunderstandings, or avoidance.




Reignite Your Marriage did more than that. It reignited me. It reignited the hope and desire that I could heal, change, and be a better version of myself and in turn a better wife and mother. I had the want but didn't have the tools on how. I did the work, I was listened to, I was held accountable, I was supported, and I grew. I am excited to put into practice what I have learned and slowly reignite the parts of my marriage that need it one lesson at a time. I have no regrets about taking the course and can honestly say it is one of the few things I have done for myself and my marriage that I can be proud of. Thank you, Veronica!
- Ana Maria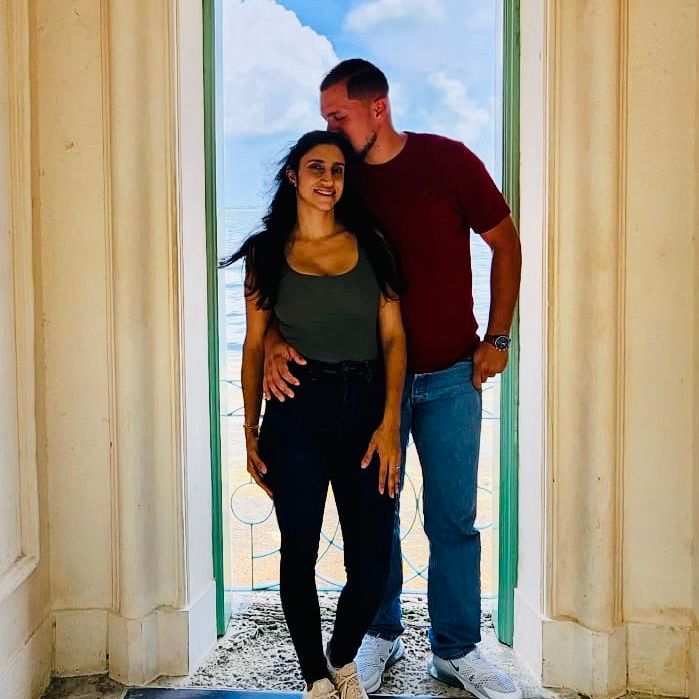 I'm a 40-year-old educated, Christian woman with 3 children and have been married for 12 years. My mindset consists of always having my best attitude and achieve everything I put my mind to and of course all on my own. No help was needed because I could handle it at any cost. Unknowingly, this attitude placed me at risk of divorce, taking my frustration out on my kids and leaving self-care on the back burner to the point of having anxiety symptoms. Never had I experienced these feelings and didn't feel like stress could ever get the best of me. The course literally takes you from a place of frustration and fear of losing your sanity due to your marriage to a step-by-step look at different areas of your life past, present, and future. It allows you to realize how you and only you are in charge of making serious changes in your life and thus impacts your relationship with your spouse, children, and most importantly your "self." I am a better wife with a husband that listens to me with intention. This means I get help when I ask for it and I feel supported. Parenting has improved because I don't have all the pressure on me. The anxiety symptoms have vanished since I don't go around trying to prove myself as a good mother, a good wife, and a worthy friend because my value is ME and not on the roles I play. I have the confidence I need to take on new challenges and enjoy my life.
- Sanjuana Saenz, California
"Honestly, being in community with Veronica, her presence alone is empowering and I've seen her over the last couple of days transform the community of women around her. Just being in her presence everybody's going to walk away with their own individual experience of what they needed her to draw out of them. She is really insightful and really intuned and she can push you as hard as you're ready to be pushed. Read more.


Chrissy Lawler, Las Vegas
"Can I just say… WOW WOW WOW. We laughed, we cried. We were uncomfortable. We were open. We received words. We resisted change. We learned. There were so many things. All of which there was no judgment. I didn't know it was possible to have connections with women who I just met. A real bond. I want to personally thank Veronica for giving me the opportunity to grow and understand myself. I love you to bits!"
Alejandra Urbanovsky, California
What's Inside The '
Re-ignite your Marriage'
Course
Module 1
Perception is Key
Here's why it pays to learn from someone who's gone through it. I know exactly where most women get stuck. In this module, we take it back to the beginning. We'll start setting your marriage up for success by helping you identify how your past has impacted your marriage. This is to help you achieve true connection and understanding. You'll get a clear idea of where your communication road blocks stemmed from. Targeting the root of the issue. This will be so insightful and immediately create more love and compassion in your marriage.
You're going to have a better understanding of why perception is key and have a clear concise plan to shift your mindset.
You'll have identified the difference between the way men and women communicate. This will be the foundation of your success in this course. You'll have a clear picture of what you're working towards throughout the rest of the course.
Module Highlights:
Discover how your past has impacted your marriage and navigate through how to break these dysfunctional cycles. This will serve as a guide and increase the connection between you and your husband. This will motivate you and provide the clarity you need to take action.

Discover how your perception is key to moving forward. Shifting your mindset and opening up to change. This will allow you to embrace change. Who knew shifting your mindset would simplify everything?
Module 2
Own Your Emotions
In this module, you'll learn how to identify and control your emotions. You'll create a path toward connecting with your husband. Finally, you'll learn how trust and misconceptions impact your marriage. You'll be provided the tools necessary to break unhealthy habits.
Module Highlights:
By Identifying your triggers you will be ahead of the game. Less reactive, less stressed, and more understanding. Your arguments are about to get a lot less toxic. No more avoidance. .

Discover the power of problem-solving as a couple. With activities to dive into as a couple, you'll feel the connection deeper than you have in years.

Gain perspective on how trust and misconception play into miscommunication and avoidance. So many "aha moments" will have you seeing your past and future in an entirely different light.
Module 3
What to say and How to say it
In this module, you'll learn how to identify your communication road blocks, what's holding you back from really getting through to your husband. Lastly, you'll learn how to navigate through an argument and set healthy boundaries that are respected by your husband.
Module Highlights:
Discover how your communication barriers are impacting your marriage and how they are impacting your children. Get a clear understanding of how to address these issues without avoidance.

Create a script to help you navigate through arguments. Yes, you get a script that is proven to help you communicate your needs effectively. You'll become a pro at navigating difficult situations with high emotions.

Set healthy boundaries so that others respect them and they are no longer crossed. Boundaries are essential in all relationships. You will be educated on how to set a boundary and when to do so.
Module 4
Empower Her
In this module, you'll learn the importance of self-reflection and self-realization. We will discuss parenting and the importance of respecting each other's parenting styles and letting go of control. Confidence is key to receiving love and fostering the relationship. You'll understand the importance of identifying who you are outside of the roles you play and embrace your true self, unapologetically of course.


Module Highlights:
Understand the role Mom's guilt plays in driving disconnection. Mom guilt can take us all down at times and interrupt our flow.

Discover how to share household responsibilities without disappointment.

Learn how to feel confident and connected with your husband. Confidence is key to establishing a healthy and strong marriage.

Learn how to let go of expectations, and discover new ways to meet the family's needs without compromising yourself.

5 steps to implement change and live unapologetically. Embrace your new path.
Reignite Your Marriage
Course
($1,277 Value)



4 Implementation Modules showing you literally everything you need to know to learn how to get over those communication roadblocks in your marriage and feel understood, seen and appreciated.

A complete step-by-step script to navigate through disagreements and experience true connection.

A comprehensive guide to help you and your husband understand the impact of your past so that you don't repeat the same mistakes.

A clear and thorough plan to help you and your husband communicate effectively so that you're understood, appreciated, and heard.
Plus These Bonuses
Bonus 1
1 hr Consult Call on completion of Course
(A $500 Value)
Bonus 2
Reignite your Marriage
It's time to celebrate. You are now ready to move forward and create your vision for the future. You are fully prepared to move forward in your marriage with a clear understanding of how to continue this road toward a healthy and strong connection.


Bonus Highlights:
Let's make this official, map out your plans for the future so you have a clear and concise plan moving forward.
Bonus 3
Reset Before You Lose It!
How to reset before you lose it - a PDF worksheet to help you reset and refuel, preventing overwhelm and stress.
(A $100 Value)
It's time to reset your Marriage!
Questions your fellow classmates asked before purchasing the course
How long will this course take to complete?
Is my Husband going to have the chance to be involved?
Do I need to be tech-savvy?
When I join will I be getting immediate access to all the lessons and modules?
I just don't know if I have time to add more to my plate.
I understand you're a Therapist, is this a form of couples therapy?
You want your marriage back… like really really badly.
Whether it's because you want to be on the same page with your husband, reignite your marriage or cut through the feeling of being alone in your marriage. Not being able to have healthy conversations or share your feeling with your husband, you're fully aware that you don't have the skills or tools to effectively communicate and connect on your own.
More importantly, you'd prefer not to spend the rest of your marriage feeling burnt out and overwhelmed. I hear you when you tell me, "I want to enjoy him and I'm tired of walking on eggshells. I just want to breathe and be excited again about my marriage." I understand the importance of this change so that you can have honest in-depth healthy conversations. I know you want to feel supported and understood by your husband, no longer avoiding sensitive topics.
That's why you're motivated for change and willing to invest the next five weeks in learning how to communicate and connect effectively. Your marriage will go from good to GREAT! The marriage won't feel one-sided anymore, you will both come together and rebuild your relationship.
I can't wait for you to join Reignite Your Marriage  Course
I am looking forward to guiding you through these next 4 weeks… 
Creating change for Women is my specialty and has literally transformed my life. 
I've experienced firsthand what it feels like to transition from crickets, avoidance, and long days of silence to being flirty and playful, feeling connected, supported, and understood by my husband. 
More than anything else, I want to share that with you today. 
If you've been married for a few years or several years and are starting to feel burnout and overwhelmed you owe it to yourself to at least take a risk-free plunge to see what your life as an effective communicator looks like. 
I want you to experience firsthand what it's like to connect with your husband again. Where you both feel comfortable and confident in sharing your wants, needs, and goals. I want to help you eliminate the communication barriers and truly reignite your marriage. 
I personally guarantee that these next 4 weeks will be completely and utterly life-changing for you and your family. 
Let's pour some gasoline on the fire and let's get that love and desire for each other burning again. LET"S DO THIS!!!.
"Veronica was able to help me see where my loss of power was in my life, and where I was placing blame, even where I was saying I was "experiencing a lack of motivation"! She was able to help me identify things I couldn't see for myself, just by talking it through with me! It was literally like having an intelligent, no BS friend to talk things through with, but to come out of the conversation with power and goals, and even action!! So anyway, if you get this opportunity to try coaching with Veronica, F*ing DO IT!! I promise you won't regret it!!"
- Brigette Soto, California
---
"You know the feeling you get when you know you are in the 'right place /with the right person). That's how I felt when I listened to your video!
My previous marriage had its fair share of good points BUT at some point, I struggled with 'radical acceptance' and couldn't get out of my own head. Couldn't fix things and felt like everything was my fault. The list goes on and on.
My current relationship is 1000% healthier, satisfying, equal, and respectful.
All of that to say, 'Thank You'... Read more.
- Karen Schwab, Michigan
---
"Working with Veronica, she has this shortcut to really get you to challenge yourself. Challenging myself to do something different was hard.
With her support and guidance and her direct nature, I was able to step out of my comfort zone and show up differently for really the first time. It felt really great."
Marilyn Ashley, California
Disclaimer:
Although Veronica Cisneros is a Licensed Marriage & Family Therapist: This course is in no way a substitute for Therapeutic Services. This course is intended for educational purposes only. This course is not a form of therapy, psychotherapy, or counseling. Please consult with a Therapist, Physician, or Medical professional for any advice or support concerning your current mental & emotional health. Exchange of communication does not constitute a Therapist, Client/Patient Relationship.